Fight Spam before it ever reaches your computer or mobile device and save bandwidth!
Over 90% of all mails are SPAM and SPAMMERS steal your TIME, MONEY and BANDWIDTH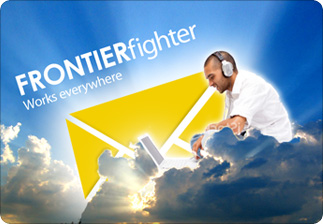 FRONTIERfighter saves you from the ever time demanding fight against spam by removing spam before it reaches any part of your e-mail. You remain protected against phishing and other dangerous spam threats and unnecessary e-mail traffic.
Most importantly, we update, secure, and maintain your spam filter automatically. This means, that you neither have to download or update anything ever.


Start your spam free life today

Get access to the full version of FRONTIERfighter free for 30 days, and say goodbye to irritating spam, viruses and wastes of time - once and for all!






* No Credit Card Required


You get loads of benefits with FRONTIERfighter
Spam is stopped before hitting your mailbox
- so you avoid having to to remove it yourself

100 % automatic updates and maintenance
- you don't have to do anything
Works everywhere
- at the office, all over the world, and at home
Add all the e-mail accounts you want
- so you can protect your private and work e-mail accounts
Can be used with all e-mail clients
- Automatic import or manual import (including Mac and Linux)
Avoid the costly spam traffic
- FRONTIERfighter is economical and effective
Option to personalize the spam filter
- block and accept certain languages, domains and e-mail addresses
FRONTIERfighter supports automatic import for the following e-mail clients and operating systems:


Mail Clients:

Outlook Express 5

Outlook Express 6

Outlook 2000

Outlook XP

Outlook 2003

Outlook 2007

Windows Mail

Thunderbird 2

Eudora 7




Operating system:

Windows 98

Windows 2000

Windows XP

Windows Vista