How to Disable the "Browser Choice" update screen
Are you having an annoying "Browser Choice" window popping up when you restart your PC? Do not fear - it is possible to disable the "BrowserChoice" popup with some simple clicks.
Maybe you're aware of the Browser Choice screen popping up each time you start your computer. And maybe you can't find a simple way to disable / block this irritating popup; SLOW-PCfighter can help you!

Due to the anti-trust regulation in the EU (European Union), Microsoft and the EU have agreed to ask the Windows users which browser they would prefer as their standard browser. Recently, Microsoft pushed an update to all windows users in the EU that activated this ballot and since then, this annoying screen has started to turn up on every computer.
SLOW-PCfighter can help you solve this issue FOR FREE !
4 simple steps to disable / block "Browser Choice" with SLOW-PCfighter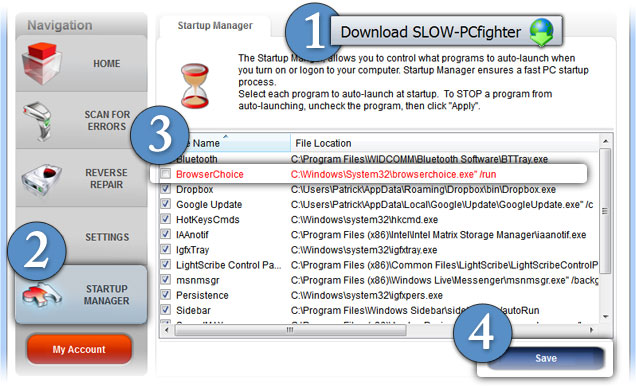 1. Download and install SLOW-PCfighter for FREE!

2. Open SLOW-PCfighter and go to "Startup Manager"

3. Disable / Uncheck "Browser Choice"

4. Press "Save"
Now "Browser Choice" is disabled and no more annoying pop-ups!
Browserchoice.exe is NOT a spyware or virus, but a Microsoft program
If you are running on a Windows 7 computer, the Browser application removes the Internet Explorer from its pinned location on the Start menu and in your taskbar
If you don't set IE (Internet Explorer) as your default web browser; the Browser Choice application does not make any change on your PC.