Block Junk Mail with SPAMfighter
If you need to block junk mail for your home/office PC or you need to spam protect a server, you have come to the right place!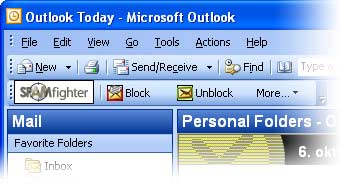 8,606,699 users are already using SPAMfighter to block junk mail, and in the last 24 hours 381 new SPAMfighters joined the battle. To block junk mail, SPAMfighter automatically tests your mail whenever it arrives, and if it's junk mail, it will be moved to your spam folder. If you happen to receive junk mail that is not detected, click on our "Block" button, and the junk mail is removed from the rest of the 8,606,699 SPAMfighters in 237 countries/areas in seconds. SPAMfighters help each other block junk mail.
SPAMfighter has developed Europe's leading Email Junk Blocker - Our tool to block email junk mail is now used by millions of home and corporate users on both PC's and Servers.
SPAMfighter Standard is 100% free for home users
Unique language filtering tool that empowers you to block junk mail written in specific languages
Protects against "phishing", identity theft, and other email frauds
Protects all email accounts on your PC
Automatic "real mail" protection
Blacklist and block domains and emails
Automatic whitelist management
Spam Abuse Reporting with one click
Privacy Guaranteed - we don't see any of your email
English, German, Spanish, Chinese, French, Italian, Greek, Dutch, Swedish, Norwegian, Suomi, Russian, Bulgarian, Portuguese, Japanese, Thai, Czech, Turkish, Polish, Vietnamese and Danish



Operating System

Microsoft Windows XP (SP2), Windows Vista, Windows 7, Windows 8/8.1 (32bit and 64bit)

Email client

Outlook 2000, 2002, 2003, 2007, 2010 and 2013 (Office). Outlook Express 5.5 (and later) (32 Bit).
Windows Mail (Only 32bit), Windows Live Mail (Only POP3) and Mozilla Thunderbird.

Memory

128 MB minimum

Disk Space

10 MB