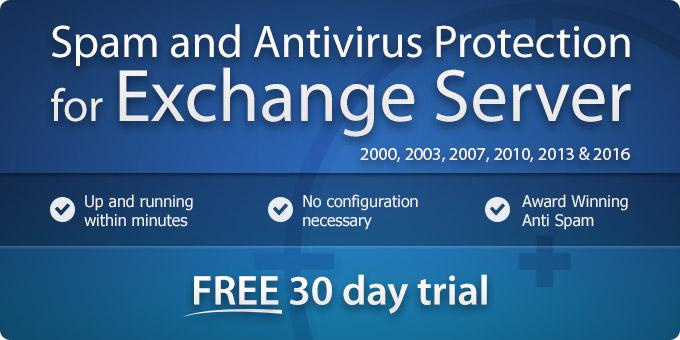 Spam Filter and Antivirus for Exchange Server 2000/2003/2007/2010/2013/2016

SPAMfighter Exchange Module is an easy-to-use yet highly configurable Exchange Spam Filter solution for protecting your Exchange Server and business from spam, viruses, phishing attempts and malware.

SPAMfighter Exchange Module filters virus, incoming spam, outgoing spam and internal spam.

Read about our business customers experience with SPAMfighter





| | | |
| --- | --- | --- |
| | | Get up and running within minutes, no configuration or maintenance is needed |





| | | |
| --- | --- | --- |
| | | Highly effective and accurate Exchange spam filtering |







| | | |
| --- | --- | --- |
| | | Detailed statistics show you and your end users how much time and money you're saving |





| | | |
| --- | --- | --- |
| | | Incoming, outgoing and internal spam filtering service for Exchange Server |







| | | |
| --- | --- | --- |
| | | Powerful and flexible custom policies and actions |





| | | |
| --- | --- | --- |
| | | Free Phone, live chat, and email support |







| | | |
| --- | --- | --- |
| | | Setup e-mail policies for e-mail usage eg. no links to YouTube in outgoing emails |





| | | |
| --- | --- | --- |
| | | Outlook plugin allows end user control |







| | | |
| --- | --- | --- |
| | | Intelligent Exchange Diagnostics tool helps you keep Exchange updated with the latest service packs |





| | | |
| --- | --- | --- |
| | | Add security or branding disclaimers to your outgoing mails |




Features




Easy setup - Installs as an anti spam plugin to your Exchange environment with ease. No configuration or maintenance is necessary, allowing you to be productive immediately
Powerful - In addition to the community filter, SEM includes a SPF, White / Black list, IP, Content, DNS blacklist, and Language filters
Configurable - Custom policies and actions allow you to set rules and specific settings for different members or groups of your organization. For example, you can configure a content filter and receive daily email reports for yourself, while your sales team's spam mails are sent to a folder and a quarantine database

Reporting - A dashboard presents you with detailed statistics regarding your organizations emails that have processed, and even keeps track of how much time and money you've saved
Virtualization support - SPAMfighter Exchange Module also works in virtual environments such as VMware and Hyper-V
Localized - Interface available in English, German, Danish, Dutch, French, and Spanish
Privacy guaranteed - your emails never leave your network
Zero possibility for downtime due to SEM




SPAMfighter Exchange Module screenshots

SPAMfighter Exchange Module will automagically (TM) send you a mail with relevant spam stats.

SPAMfighter Exchange Module has a variety of spam filters at your disposal. Configure them as you please. No fuss though - the default settings work great for most organizations.




Empower your end users with Outlook Toolbars allowing them to block and unblock spam.

See how much time and money is saved now that you are not manually sorting ham from spam.



SPAMfighter Exchange Module Presentation




Requirements
Operating system:

Microsoft Windows Server 2000 or newer

Email Server

Microsoft Exchange Server 2000 or newer or Microsoft Small Business Server or Windows Server Essentials

Additional software

Internet Information Services
Microsoft .NET Framework 2.0 SP1 (Download from Windows Update)
Microsoft Data Access Components 2.7 (Download from Microsoft)




Other products - All products offer a free trial.




SPAMfighter Hosted Mail Gateway

SPAMfighter Hosted Mail Gateway is a hosted anti spam solution for businesses that do not want to deal with the costs associated with purchasing and maintaining dedicated software for fighting spam and prefers to outsource the fight against spam.

SPAMfighter Mail Gateway

SPAMfighter Mail Gateway is quick-to-implement solution for businesses that just need a spam filter that will supplement their existing email infrastructure and filter spam independently of a specific mail server technology.


New features in SPAMfighter Exchange Module version 5
Filtering of both outgoing and internal spam
Due to the great feedback from our customers, SEM now filters both outgoing and internal spam
Establish new e-mail company policies
Restrict mass-mailings or YouTube video links
New look interface
Updated user interface with Live Support Chat
New statistics
New statistics with full support for incoming, outgoing and internal emails
New feature
Exchange Diagnostics tool for improved Exchange and Windows Server security

msexchange.org
"SPAMfighter has added some very effective new features, but has done so without sacrificing their trademark simplicity. .........very easy to install......helping organizations to effectively combat spam while also preventing false positives."