Searching for an Enterprise Spam Filter? SPAMfighter Exchange module (SEM), is the easy-to-use Enterprise spam filter solution for Microsoft Exchange Server 2000-2013. SEM now spam protects more than 36.000 companies world wide.
SEM is powered by 8,331,622 SPAMfighters from 238 countries/areas. If enough SPAMfighters report the same spam mail, it is instantly removed from all SPAMfighter and SEM users. SEM is made by SPAMfighter ApS, Europe's leading anti spam company.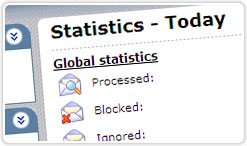 SPAMfighters Enterprise spam filter is easy to implement on your Microsoft Exchange Server, making the solution very fast and safe to use.
As email arrives and the Exchange Server routes it to its addressees, SEM makes a unique encrypted signature for each message and sends it to the SPAMfighter Server for evaluation. If the SPAMfighter Server determines that a message is spam, it notifies SEM and the spam mail is moved to the user's spam folder.

Instant protection against spam and phishing
Safe and maintenance free
Optional spam filter pr. user
Zero possibility for downtime due to SEM
SPAM processing and blocking statistics
Works automatically with no configuration
Maintenance free - Automatic real-time updates from a community of 8,331,622 people
Simple to use for end users - Spam is automatically moved to the Spam folder
About SPAMfighter Enterprise spam filter:
SPAMfighters Enterprise spam filter also offers reporting, so administrators can review statistics on how many messages SEM is filtering, how many users are enabled, and more.
In addition, SEM is very simple to use for end users, as spam is automatically moved to the Spam folder. While SEM simplifies administration and keeps software and configuration off the employee's desktop, it also provides individual control for end user's if the administrators decide they want this.


Operating System

Microsoft Windows Server 2000 or newer

Email Server

Microsoft Exchange Server 2000 or newer

Additional software

Internet Information Services
Microsoft .NET Framework 2.0 SP1 (Download from Windows Update)
Microsoft Data Access Components 2.7 (Download from Microsoft)

Memory

256 MB minimum