Slow Computer? Use SLOW-PCfighter to speed up your slow computer now!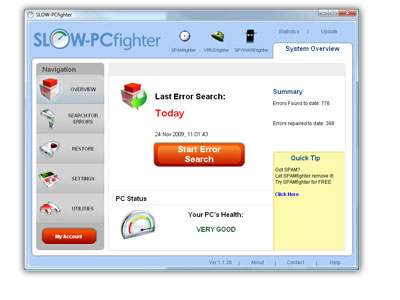 If you're reading this, chances are you're sitting in front of a slow computer at this very moment. It's not your fault, but computers naturally get slower over time as you install new software or perform your otherwise day-to-day activities.

SLOW-PCfighter has been designed to make optimizing a slow computer easy and accessible for users at all levels of proficiency by scanning your computer's registry for problematic areas. Rather than purchase costly upgrades or shell out top dollar for a new computer, try a SLOW-PCfighter scan now and get your computer running like new in just minutes.


Run a Slow Computer scan

SLOW-PCfighter scans your slow computer for errors!

Repair errors

Repair errors using SLOW-PCfighter with just one click!

Enjoy a clean and faster Computer

Your registry has been optimized and much faster!


Get the most out of your computer
SLOW-PCfighter is fast and easy to use
SLOW-PCfighter helps to avoid system failure
SLOW-PCfighter gets your system back in shape and running at maximum speed!