Create Your Own Software in less than 8 hours! Brand our software like it's your own with your unique identity.
SPAMfighter introduces a revolutionary new opportunity: create your own brand of software with our White Label Program.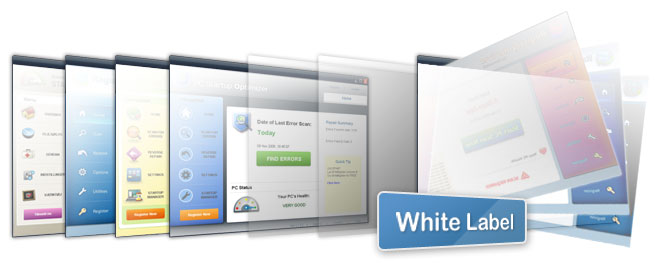 Seven Easy Steps - Start selling your own White Label Software today.
Using our online white label tool you will be able to rebrand five software/product titles with your own company name, logo, colors and website link/URL.
1. Create a partner login
2. Confirm your partner account in your email
3. Select the product you want to create and sell
4. Follow the comprehensive guide to upload your graphics. Examples are shown for each graphic item.
5. Create links to point to your website and shopping basket
6. Create test installers along the way to test the look and feel of your own software
7. Click "Produce Software" and you have now have your own professionally designed, private label software program that you can sell at any price and freely promote trials and Free Scans of your new software.
Screenshots of the Whitelabel Manager


Test without Sign up

To test our Whitelabel Manager without any signup please click the blue button and use the following login information.

Note this DEMO account is shared and will reflect that. Messy graphic uploads, test information and the lack of e-mail notifications ect. can occur. Feel free to test and play around.




Test DEMO account





Login with:
E-mail: demo@spamfighter.com
Password: demo


While it is helpful to have a technical or graphics background to create your software, it certainly isn't required. For an additional fee, we can help you with any problems you may encounter in the process and we will build up a base of graphical designers who will be expert in helping you build your new software. Learn more
There are limitations regarding graphics. This product technically is a "rebrand", which means certain things can be easily changed, such as icons, colors, most fonts, and any text, but there is a limitation within the layout of where you can place the graphics.
| | | |
| --- | --- | --- |
| | | |
| Get started Now | Create & Launch | Distribute and Earn! |
| It only takes a couple of minutes to get started and we are always here to help you if any questions arise. | Brand our software program(s) like it's your own with your unique identity. Choose icon sets, colors and links within the software. | See real time stats about who and where they install your software from and what O/S they are installing into. Then optimize your marketing efforts. |

Cost is the least of your worries, but as always, it cost money to make money. There is a $500 setup fee that is payable upon production of software.
The higher the volume the lower your fees are. The basic cost is between $2 to $10 per license per 1 year subscription of a Registry Cleaner license. The cost is contingent on type of products and volume. Recommended End-user Retail price ranges between $29.95 and $49.95.