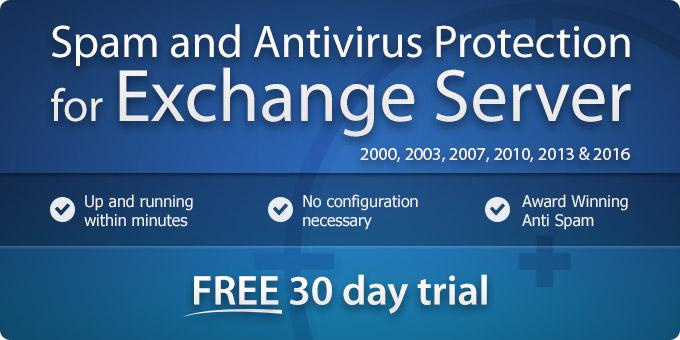 Exchange Anti Spam Filter - try free for 30 days
SPAMfighter Exchange anti spam module, is the easy-to-use anti-spam and antivirus solution for Microsoft Exchange Server 2013, 2010, 2007, 2003 and 2000 or Microsoft Small Business Server (SBS) / Windows Server Essentials. SPAMfighter Exchange Module now spam protects more than 36.000 companies world wide.
About SPAMfighter Exchange Anti Spam Module:
SPAMfighter Exchange Module is not only an anti spam filter for spam entering your company but also spam going out of your company and internal spam between employees.
SPAMfighter Exchange Module integrates 100% with Microsoft Exchange Server and checks all incoming, outgoing and internal mails for spam. With anti spam provided by SPAMfighter you rely on 10 years of experience with removing spam for 36.000 companies and organizations.


Three reasons why SPAMfighter Exchange Module should be your no. 1 choice for anti spam:
| | | |
| --- | --- | --- |
| | | Easily integrated into Microsoft Exchange and installation is only a few minutes |
| | | |
| --- | --- | --- |
| | | Award winning Exchange anti spam filtering of your incoming, outgoing and internal mails |
| | | |
| --- | --- | --- |
| | | 30 day free trial and free phone, chat and mail support |




Here is why we think SPAMfighter Exchange Module is the best anti spam for MS Exchange:




Easy setup - two minutes and you are up and running
Award winning anti spam - VB100 certified and praised by many Microsoft Exchange experts
Flexible - Rules and policies for e-mail and spam handling can be defined
Free support - We are here to help you

Stats - email stats can be sent to administrators with insights on spam levels in the organization
Hardware / virtualization - Runs easily on most hardware and support for eg. VMware
Localized - interface located into several languages
E-mail compliance - set up rules for eg. no links to YouTube in outgoing mails




SPAMfighter Exchange Module have a clear and logical interface.You can try for yourself 30 days for free.

Notifications e-mails can be sent of a daily, weekly or monthly basis

Many anti spam filters are at your disposal eg. CAPS filters, sender filters and languages filters




With our MS Exchange anti spam you wil save time and money battling spam. See for yourself during the trial


Full anti spam diagnostics - is the anti spam working as it is supposed to?




Requirements
Email Server

Microsoft Exchange Server 2000 or newer or Microsoft Small Business Server or Windows Server Essentials

Operating System

Microsoft Windows Server 2000 or newer

Additional software

Internet Information Services
Microsoft .NET Framework (either 1.1 SP1 or 2.0) (Download from Windows Update)
Microsoft Data Access Components 2.7 (Download from Microsoft)


SPAMfighter Exchange Module provides anti-spam and email security for your Exchange Server