Free Spam Filter for Thunderbird

SPAMfighter has built the strongest, safest, and most effective anti spam filter for Thunderbird on the market. If you need a spam filter for Thunderbird, just install SPAMfighter. And if you use it at home, it's 100% free.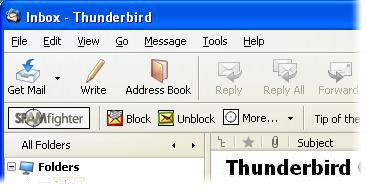 Whenever new mail arrives, it will automatically be tested by SPAMfighter. If it is spam, it will be moved to your spam folder. If you receive a spam mail that is not detected, click on the Spam Blocker button, and the spam mail is removed from the rest of the 8,603,165 SPAMfighters in 237 countries/areas in seconds.

Protects against phishing, identity theft and other email fraud
Automatic "real mail" protection - means no lost business mails!
Blacklist/Whitelist domains and email addresses
Privacy Guaranteed - we don't see any of your email
Unique language filtering tool that empowers you to stop emails written in specific languages
| | | |
| --- | --- | --- |
| | | |
| SPAMfighter has a very simple user interface. | | View live statistics of the spam that SPAMfighter has removed. |






There are two versions of SPAMfighter:
This is the product you download and get free for 1 month. After the trial, you can choose to pay only US$29.00 and keep the Pro version, otherwise you are automatically downgraded to the free SPAMfighter Standard. SPAMfighter Pro can be used in companies and other commercial environments and gives access to better protection, read more here.
This is a free product and can only be used in homes and schools. In SPAMfighter Standard, a short text ad is displayed in your e-mail client, and an "I'm protected by SPAMfighter" message is attached as a footer to your outgoing e-mails. Also, you don't have the language filter and other useful features are missing.



| | |
| --- | --- |
| Operating System | Microsoft Windows XP (SP2), Windows Vista, Windows 7, Windows 8/8.1 (32bit and 64bit) |
| Email client | Mozilla Thunderbird 16 (and previous) |
| Languages | English, German, Spanish, Chinese, French, Italian, Greek, Dutch, Swedish, Norwegian, Suomi, Russian, Bulgarian, Portuguese, Japanese, Thai, Czech, Turkish, Polish, Vietnamese and Danish |
| | |