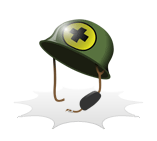 You are probably here because you suspect your computer of having a virus, or you have been receiving warnings that you already have a virus but are not able to remove it? The VIRUSfighter anti virus remover software is able to help you! To scan, identify and get rid of destroying virus, worms etc., you have to do the following:
VIRUSfighter is in the same product family as SPAMfighter, Europe's leading Spam Filter developer.


| | |
| --- | --- |
| You get a full free version of VIRUSfighter Pro completely free for 30 days. | VIRUSfighter Pro is SPAMfighters new anti virus software and it has won several awards. |


VIRUSfighter Pro is a very user-friendly virus scanner that is easy to install on your computer. If the scan finds a virus on your system, it will easily quarantine and remove the virus.

VIRUSfighter Pro protects you against virus and other malicious software destroying your computer. Every time a virus outbreak occurs, an effective antidote is quickly released and automatically installed - you don't have to lift a finger.


Run a virus scan and follow the instructions in the VIRUSfighter Pro program - its as simple as that!


If you decide to buy VIRUSfighter Pro after the FREE 30 days trial, it only costs US$19.99. If you have a competitor's virus protection installed and choose to uninstall it we will give you a discount of US$15.00.


| | |
| --- | --- |
| Operating System | Microsoft Windows XP, Windows Vista, Windows 2000, Windows 7 or Windows 8 (32bit and 64bit) |
| Browser/email client | Any brand and version |
| Memory | 128 MB minimum |
| Disk Space | 25 MB |