White Label Software Partner Program - Easily Expand Your Product Offering
Increase Your Market Share and Revenues with our White Label Software
Looking for a White Label product that is high converting and can be fully rebranded with your logos, graphics and text? Take advantage of SPAMfighter's award winning and top selling registry cleaner SLOW-PCfighter, our hard disk cleaner FULL-DISKfighter, our driver updater DRIVERfighter, security products SPYWAREfighter and VIRUSfighter and the antispam product, SPAMfighter Pro, as a White Label Software product. We can help you monetize your customer base and attract new customers with a quick time to market, giving you access to a new product within 3 to 4 weeks.
Our White Label Software Program is perfect for publishers, affiliates, and ESD's to instantly expand their product line without any the need of development and reach new customers worldwide with a high converting product, up to 20% of people who download, purchase the product. Our White Label Program is the strongest in the industry with top industry companies in the world as clients, and a presence on every continent - with over 2.5 million licenses sold.

White Label Software Program Features
Dedicated Implementation/Operational Managers
A dedicated account management team will support your project implementation, training on product management tools/modules, and support with sales / marketing needs.
Content/Translation Module
We give you access to a web interface that allows you to review and update the text in the installer, software application, and GUI.
White Label Software Partner Toolkit
We give you access to an online tool kit module which enables you to run real-time statistical reports by installation date, uninstalls, active/non-active users, country, version, and usage language.
Customized Branding and Customization
We can help you individually customize aspects of your White Label product from branding and aesthetics to content and even language, through a step by step instructional guide.
Localization
SLOW-PCfighter, SPAMfighter Pro, DRIVERfighter, FULL-DISKfighter, SPYWAREfighter and VIRUSfighter are available in 22 different languages where your new White Label software can be localized with graphics and the languages needed for your market.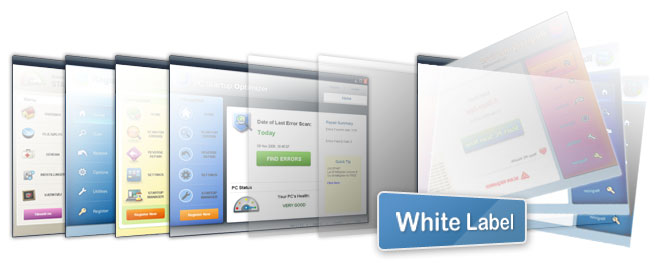 The SPAMfighter White Label Software program allows you to instantly expand your product line without the need of development resources and reach new customers worldwide with our multi-language capabilities.
Requirements to enter the SPAMfighter White Label Program
You are willing and able to promote your product under your own brand name.
Have an established, high volume, distribution channel.
You are able to handle technical support.
You require none or very limited marketing support from SPAMfighter.